Every city has a symbol that reflects a part of its personality, but only a few can brag to have one that you will not find in any other place. This is the case in Málaga, where one of its best known symbols is the biznaga.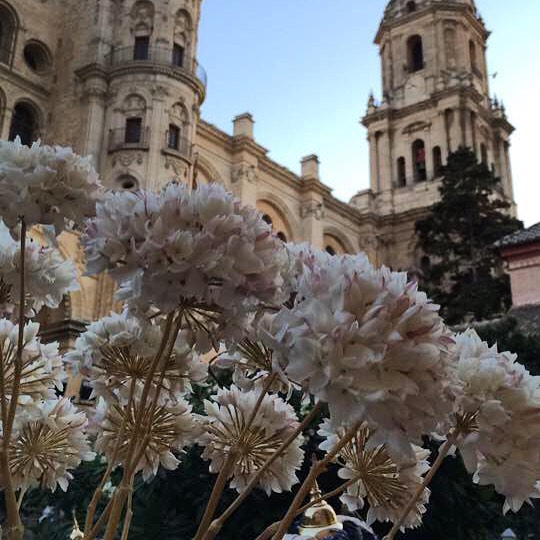 The biznaga is an artificial flower, created in folk art and launched for national and international recognition. It's typical to see them in the streets of the city in summertime, releasing a delicious fragance. How this flower was born is unknown and as with lots of local habits, there are several hypotheses, but we will tell you some of the most curious facts of this flower.
Making the flower needs a lot of craftmanship. First green wild thistles are picked and dried. Once they are clean, a frame full of spines is made, and on every one of these spines a closed jasmin flower is placed. Little by little, when they open, they create a white half ball with a lot of fragance.
One of the qualities that they are said to have is that they drive away the mosquitoes, thanks to its intense perfume and concentration of jasmin.
The vendor of this product, which also is the maker of it, is called biznaguero. They often dress in black trousers, a white shirt, a purple or red band and esparto shoes. The biznaguero presents the flowers pinned in a penca leaf, obviously without its spines. This presentation makes it much more beautiful and going around through the streets it leaves an intense perfume.
Nowadays the biznaga is also the award granted at the important Málaga Film Festival that is celebrated in the Cervantes Theater. The most important awards are the Golden Biznaga of Honour and the Biznaga City of Paradise.
And if you want to know more about them, count on us! Come to one of our Free Walking Tours, during which we share with great pride these details and more of this flower that charms us so much.
Social Share