Private excursion to Ronda and Setenil de las bodegas
Approximately 8 hours.
Excursion with a private guide. Transportation from Malaga to Ronda and Setenil de las Bodegas. Return the same day.
Discover why everyone talks about Ronda and Setenil de las bodegas! They are two of the most beautiful villages in Spain. We provide transportation and the guide, so you don't have to worry about anything. All the beauty of Andalucia is just an hour and a half away from Malaga.
real reviews on TripAdvisor
A magical day during your stay in Malaga
Located just 100km from Malaga are two jewels of our country. These two villages have captivated both the romantic travellers from the 19th century and the most modern influencers of today.
Discover both in one day starting from Malaga, where we will pick you up in the morning at your accommodation. First we will head to Setenil, a beautiful white village embedded in the rock that leaves all visitors speechless. We will take a short walking tour to visit its most charming corners.
Our next stop will be Ronda, a village that has always been considered one of the most beautiful villages in Spain. A land of bandits and the birthplace of bullfighting. Exploring it by foot with your guide will convince you that Ronda is magical: its narrow streets, its Muslim past, its famous bridge over the gorge…
During the tour you will also have free time for coffee, lunch, shopping, bathroom breaks etc. Like all tours, this one is also customisable, so you can choose to spend the time how you want, adding or subtracting time, changing the order of the visits. The guide will be dedicated exclusively to your group.
Make the most of your stay in Malaga and don't miss the opportunity to visit these two real wonders. And you will get back with plenty of time to continue enjoying the capital on your own!
Los free tours no tienen un precio fijo, sino que al final cada persona entrega al guía la cantidad que considera en función de su satisfacción. La media que se suele pagar es de 10€ por persona.
Any day (Due to the transfers, we recommend an early start, 8-9am)
* We rest on the 25th of December, 1st and 6th of January.
8 hours (including transfers by private transport).
Private tours to two of the most beautiful villages in Spain.
Pick up from the hotel or cruise terminal. Journey in an official taxi or VTC vehicle with up to 8 seats and adapted for passengers with reduced mobility.
Official guide from pick-up to the end of the tour.
Approximately 1.5 hours of free time for lunch (not included), shopping, etc.
English or Spanish, for other languages such as French or Italian please consult availability.
The suggested tour lasts about 8 hours from the time the transport picks up the group in Malaga until they return. The total walking tour takes approximately two or three hours.
We will pick you up at your accommodation or at the point of your choice.
Find your guide with an "Explora Málaga" sign.
If you will not be able to attend the tour, please cancel your reservation, otherwise the guide will be waiting for you.
On this tour we will pick you up in an official taxi at your accommodation, at the cruise terminal or at the location of your choice in the city of Malaga.
If you are staying in La Costa del Sol, contact us, we can pick you up anywhere in the province.

Our greatest value is your satisfaction
5,0 average rating on Google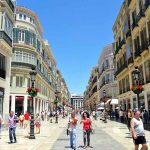 Henar GM
Madrid, España
El guía Luis ha hecho la vista amena y entretenida. Aporta mucha información interesante. Recomendable.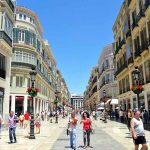 yarinka sm
Madrid, España
Perfecto en cuanto al tiempo de la visita, ni muy corto, ni muy largo. Las explicaciones fueron interesantes y muy amenas.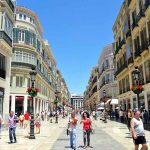 Analia Barrera
Madrid, España
Muy buen tour de la ciudad. Variado y con detalles. Alejandro nos ha ayudado con mucha información extra. Muchas gracias por mostrarnos Málaga! Hasta la próxima.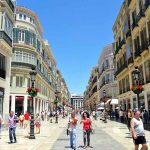 Luz Marina de Lamo
Madrid, España
La visita guiada con Gloria ha sido muy didáctica y entretenida. Merece la pena descubrir la ciudad con una guía como ella.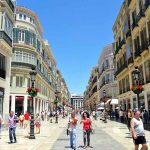 Rosana Gomez Cadinanos
Madrid, España
Conocer Málaga con Javier ha resultado una experiencia entretenida e instructiva. Muy muy recomendable si quieres conocer Málaga. Un 10

Our team is only composed by licensed local guides in accordance with the law in Andalucia

Certificate of Excellence 2016, 2017 and 2018, based on more than 1900 opinions from real clients

We feel that we are ambassadors of the most beautiful city in the world, our hometown Malaga

Enthusiastic friendly guides
Our guides will help you to discover our city with enthusiasm and professionalism

We are proud to be a small business that work only in Malaga and only for Malaga

Supporting responsible tourism
We collaborate to do sustainable activities regarding the environment and the daily life of Málaga neighbours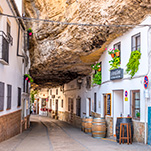 Setenil de las Bodegas

Setenil is a white village nestled in the mountains. We will explore its magical streets full of cave houses, its unique cobbled streets and its mediaeval heritage, including the tower that dominated the town and its surroundings. A wonderful walk through a unique village in the world.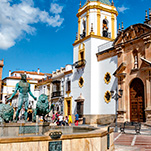 Ronda
Despite not being a large city, Ronda is one of the best known places in Andalusia. Its unique location, its views, its bridges, its attachment to its traditions, make the municipality a must for those who come to the south of Spain.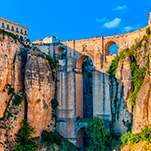 El Tajo de Ronda

We will discover the impressive views of the region, the Guadalevin river, and the beautiful and famous bridges that connect the different areas of the town.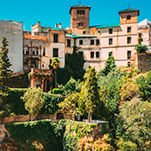 El Palacio del Rey Moro
We will pass by the old palace, which contains a wonderful garden, unique views of the gorge and the river, and a water mine that has a legend known to everyone in this area. We will also pass by the Palace of Modrago and the Palace of the Maquis of Salvatierra.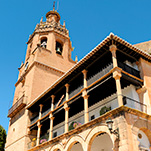 The church of Sta María la Mayor
In the middle of the Plaza Duquesa de Parcent, next to the Town Hall of Ronda, stands this temple, which was probably a Roman temple, a Visigoth church, then a mosque and now the city's main church.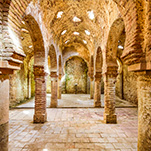 Walls and Arab Baths
We will walk along parts of the Muslim walls that have protected the city since the 11th century. We will see the best preserved Arab baths in Europe and we will also see the Arab and Roman bridges at the other entrance to the city.
Frequently asked questions