At Explora Málaga we are committed to quality and after much effort the work ends up bearing fruit . In addition to online satisfaction on pages such as Tripadvisor, Google, or reference pages in the sector, we have received a series of badges that reward good work and commitment to our city Malaga, its history and its heritage.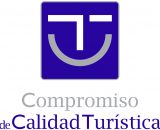 Sicted Quality
Certificate
Issued by the Malaga City Council and its Tourism area, the SICTED Quality Certificate rewards tourism companies for their good habits and quality of service. We have received it every year since 2017, placing Explora Málaga at the forefront of guided tour companies in our city.

Tripadvisor Certificate of Excellence
Like the previous one, we have been receiving the quality certificate of the Tripadvisor traveler reviews page every year since our begin, where it is awarded, the highest score in the evaluations of visitors who explored Malaga with us, with a total of over 3000 comments (August 2019) and receiving Certificates of Excellence in 2016, 2017, 2018… til 2021  and as everything indicates, probably also in 2022, although that will also depend on you :).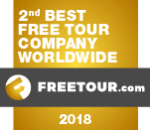 Freetour.com Award. 2nd Best Free tour company world
Our company was awarded by the world reference page Freetour.com as the second company for guided tours in the world, due to the good feedback from users of our visits. This is a true pride, not only for our company, but for the city of Malaga, since the first place is taken by a company from Paris, but the second place is Exploring Malaga, unseating companies from cities as powerful as NY, London or Amsterdam.