Muslim influence in Malaga spanned for almost 8 centuries, its legacy lives on. Find out about Muslim Malaga walking about the most important fortress of its time, the Alcazaba.
real reviews on TripAdvisor
Time to explore the flagship of the medieval Málaga
Located between the historical city center and the sea, this fortress has seen Málaga growing and changing for almost a millennium. A tour where to learn about the muslim legacy in a city they inhabit for 8 centuries, to listen about the unbelievable story of a castle that became a neighbourhood, as well as the christian reconquest and the unendable siege  in 1487 surrounded by the breathtaking views of the city and the bay.
* Free (You set the price of it). *Alcazaba entrance fee not included. The price is 3,50€ per person or 1,50€ if you have a student or retirement card.
Winter (October 1st to May 31st): Tuesdays and Saturdays at 16:00
Summer (June 1st to September 31st): Tuesdays and Saturdays at 17:30
* Tours not running Dec 24th, 25th and 31st , January 1st and Jan 6th, Malaga´s Fair and Holy Week
English and Spanish. We have groups in both languages.
Find the guide with a blue umbrella.
Alcazaba, the muslim fortress, the palaces área, moorish period of Málaga, the fight of the christian conquest, spanish inquisition.   More info.
This tour is not wheelchairs accesible.Suitable for all ages. We recommend a bottle of water with you and comfortable shoes.
If you are not going to be able to attend the tour, please cancel the reservation, otherwise the guide will be waiting for you.
Entrance of the Alacazaba, in Alcazabilla street, next to the tourist information point.
Alcazabilla is a very central street in Malaga, a two-minute walk from Malaga Cathedral. You can easily recognize it because on this street there is also the Roman theater and the glass pyramid of the Roman Garum factories. We are waiting for you at the entrance of the citadel next to the tourist information post.
How to identify our guide?
We will be at the entrance, easy to recognize us because we carry a blue umbrella with our brand and a hanging ID.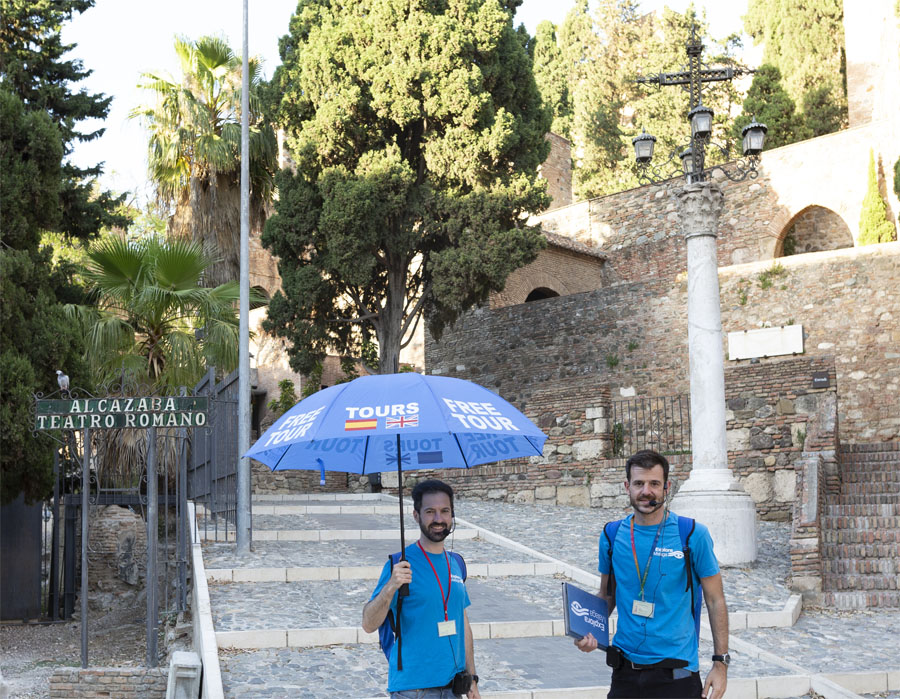 +2950 reviews from our customers
Our greatest value is your satisfaction
5.0 average in Google Reviews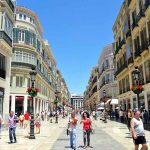 Henar GM
Madrid, España
El guía Luis ha hecho la vista amena y entretenida. Aporta mucha información interesante. Recomendable.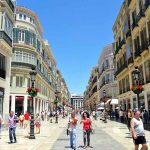 yarinka sm
Madrid, España
Perfecto en cuanto al tiempo de la visita, ni muy corto, ni muy largo. Las explicaciones fueron interesantes y muy amenas.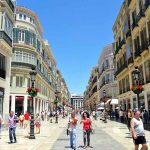 Analia Barrera
Madrid, España
Muy buen tour de la ciudad. Variado y con detalles. Alejandro nos ha ayudado con mucha información extra. Muchas gracias por mostrarnos Málaga! Hasta la próxima.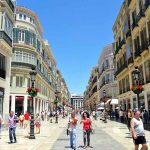 Luz Marina de Lamo
Madrid, España
La visita guiada con Gloria ha sido muy didáctica y entretenida. Merece la pena descubrir la ciudad con una guía como ella.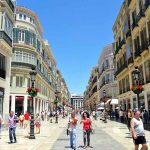 Rosana Gomez Cadinanos
Madrid, España
Conocer Málaga con Javier ha resultado una experiencia entretenida e instructiva. Muy muy recomendable si quieres conocer Málaga. Un 10

Our team is only composed by licensed local guides in accordance with the law in Andalucia

Certificate of Excellence 2016, 2017 and 2018, based on more than 1900 opinions from real clients

We feel that we are ambassadors of the most beautiful city in the world, our hometown Malaga

Enthusiastic friendly guides
Our guides will help you to discover our city with enthusiasm and professionalism

We are proud to be a small business that work only in Malaga and only for Malaga

Supporting responsible tourism
We collaborate to do sustainable activities regarding the environment and the daily life of Málaga neighbours