Explora Málaga with local guides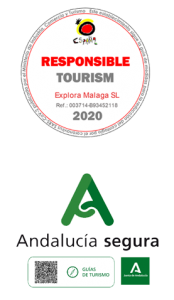 Explora Malaga resumes its guided tours of the city. We have implemented mandatory and recommended preventive measures against COVID-19 by OMS, and governments of Spain and Andalusia. Everyone's health comes first. Complying with all the sanitary measures required by our authorities, we have obtained the Seal of Safe Andalusia, and the distinctive Spain Responsible Tourism that our Ministry and the Ministry of Tourism of Spain grant to reward companies that are committed to a commitment to quality and security. If you want to know the measures adopted and how our tours will be during the new normality, follow this link.
Our commitment is with you and with our city.
Our task, 100% safe tours in Malaga, now only we are missing you.
Private tours in Malaga
We have the private tour just for you. Discover all them here.
Our goal is to fight for the conservation of our cultural heritage and to divulge our amazing history by providing a young and quality service. Let us show you our city with energy, love, professionalism and enthusiasm. Learn about Malaga with us, live a wonderful experience, enjoy our weather…
Explore Malaga!

Our team is only composed by licensed local guides in accordance with the law in Andalucia

Certificate of Excellence 2016, 2017, 2018 and 2019, based on more than 1900 opinions from real clients

We feel that we are ambassadors of the most beautiful city in the world, our hometown Malaga

Enthusiastic friendly guides
Our guides will help you to discover our city with enthusiasm and professionalism

We are proud to be a small business that work only in Malaga and only for Malaga

Supporting responsible tourism
We collaborate to do sustainable activities regarding the environment and the daily life of Málaga neighbours
The top rated tours in Malaga
Our best cover letter is our work and for this we invite you to discover what our customers think. We are proud to have an average score of 9.87 in more than 3,200 online reviews in addition to numerous awards we have obtained for doing our best work every day.