A few months ago, us, two Tourism graduates from the University of Málaga each obtained a license to become official tour guides in Andalusia. This license allowed our dreams to come true; to share our knowledge, love and passion of the beautiful City of Málaga.
Why did we want to run the guided tours in Málaga?
We each desired the opportunity to become ambassadors of our hometown. Not only did we want to highlight the city's unmissable heritage and culture, but we jumped at the chance to demonstrate the reasons to why both locals and foreigners still fall in love with this multicultural city.
Explora Málaga was coined and created in Málaga. Our aspiration of leading guided Walking tours  around our native city became a reality.
Explora Málaga provides a new type of Walking Tour named 'Free Tours'
Explora Málaga provides walking and guided tours to local and international visitors that are interested in finding out more about our vibrant, cultured city. Our tours are presented in a unique, knowledgeable and fun way; allowing you to experience the richness of Málaga.
We believe that our free walking tours really stand out. Unlike other companies, we do not ask you to pay upfront. Based on your enjoyment of our walking tour, you will decide the price of the tour for yourself. We proudly believe that our service cannot be beaten. Would you like to give it a try?
We also provide walking tours for the natives of Málaga (malagueños). It is incredibly rewarding to pass on our knowledge and allow locals to develop a deeper appreciation of Málaga and what our city has to offer. It is important to us to remind those living in Málaga how to take care of the city. If locals and the tourism industry do not look after Málaga, who will?
Who represents Explora Málaga?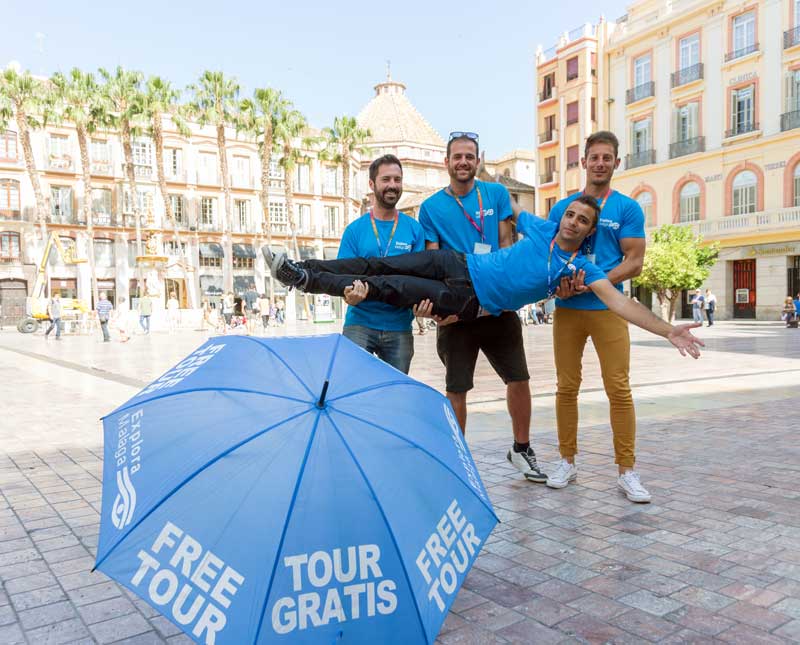 Our team is comprised of five young malagueños, each proudly obtaining a degree in Tourism from the University of Málaga. We have also all worked and studied in other locations. From our experiences, we have each learnt a new language and, on our return to Málaga, we appreciate Málaga even more than before.
Elena has a German and Spanish background and she has lived large parts of her life in different places around the world. Not only does Elena have a Masters degree in German and Spanish, but her knowledge of Málaga's cuisine is commendable. She is extremely vibrant, bubbly and friendly – not to mention her permanent, contagious smile!
Juan Manuel is probably the most romantic guide that you can find in Málaga. His love for history and culture is only comparable to his love for literature and poetry. He has a great sense of humour, a tour with Juan Manuel is such an adventure!
Julio is originally from Marbella. He is our athletic guide that moved to Málaga five years ago in order to study at the University of Málaga. His enthusiasm and love for the city is contagious and his friendliness charms both children and adults! We have definitely converted him to the malagueño lifestyle!
Javier is one of the founders and visionaries of Explora Málaga. Although he has travelled the world, he firmly believes that Málaga should not be underestimated. Javier decided to study tourism and later become a tour guide. His knowledge of our city, his endless energy, professionalism and friendliness ensures that every tour with him will be sincere and unforgettable.
Luis is one of the founders and visionaries of Explora Málaga. An avid tourism student that wished to promote and showcase his home city to visitors from all over the world. A tour with Luis will be full of passion. He will take you down Málaga's exciting paths and inform you of its legends and its remarkable history. A fun tour with laughs along the way is guaranteed!
What else can Explora Málaga offer you?
We also offer private and tailor-made tours! If you would like to explore Málaga solely with your friends, family or work colleagues, why not opt for a private, unique tour? All of our tours cater for every individual, of any age, of any nationality. If you have any specific requirements, we can tailor any tour just for you! Do not hesitate to contact us for further information!
Why should you go on a tour with us?
Most importantly, we are all local guides with a passion to share our knowledge. We believe that our tours are fresh, exciting and innovative. Our team are extremely knowledgeable and we would love to see you on a tour.
Our customers ranked us first place on Trip Advisor (for our Free tours and Private Guided Tours) and second place (in 'activities' to do in Málaga). It is out reputation and our customer's satisfaction that drives our business. We are local guides with international backgrounds. We truly believe in what we do and we have a passion to share our city.
It would be great to see you on one of our guided tours, enjoying Málaga's glorious sunshine and culture. Support a local business and enjoy our high-quality service, Explore Málaga with us!
Hasta ahora!