Every year, after choosing the gods of the carnival and having enjoyed a great parade of disguises in the streets of Malaga it's time to give a heartfelt farewell to the 2019 Carnival of Malaga. However this farewell is done in a very special and joyful way. We invite you to discover the Burial of the Anchovy  or "El entierro del Boquerón".
The Burial of the Anchovy
One of the great traditions of the Málaga carnival is the farewell of it. Each year a giant anchovy is carried in procession from the Plaza de la Constitución to the beach of La Malagueta accompanied by a funeral procession whose destination is to burn the anchovy on the beach, on the shores of the Alboran Sea.
The anchovy is designed in giant dimensions and is usually inspired by some relevant event that occurred in the city during the previous year.
This is a very beloved festival for carnival enthusiasts who each year leave in the spirit of returning even better the following year.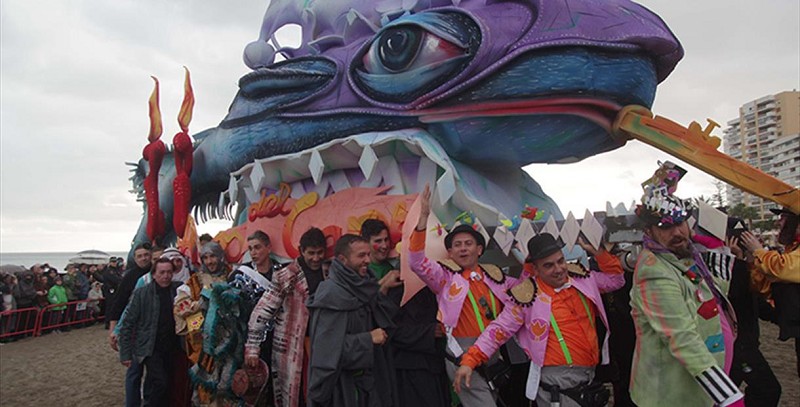 Piñata Sunday schedule
Pinata Sunday is the day of the burial of the anchovy, which this year will take place on March 3. The programming for this day and do not miss any detail is:
12:00 am. Parades of Gods and Animation Groups
The show will start at 12 noon, where the Gods of the Carnival will parade through the Plaza de la Constitución, Especería, Nueva, Félix Sáenz square, Puerta del Mar, Martínez, Marqués de Larios and Plaza de la Constitución.
12:30 am. Carnival Couplets Contest
A contest that lasts around one an hour and where to have a good time with the whole family.
[quote align="center" color="#999999″]
And what can I do after the Parade? ????
If you are one of those who can not sit still and are always looking for new adventures, we recommend you to take a free tour of Málaga, a unique experience that even the people of  Málaga marvel at…[/quote]
13:00 am. Great Anchovy tasting
In the  Constitución Square there will be a space reserved for those of you who are hungry. Starting at 13:00 pm a  free tasting of fried anchovies in the Gran Boqueroná will be served by the town hall.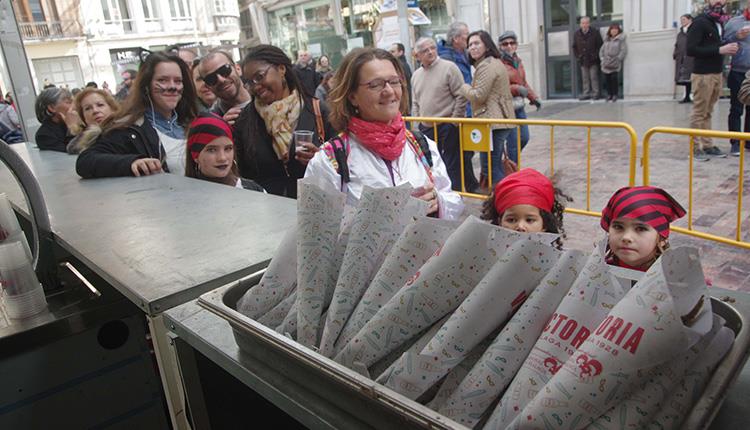 17:00 pm. Burial of the Anchovy
After 2 hours in which El Boquerón will be exhibited in the Plaza de la Constitución, the Burial of the Boquerón will take place, starting at Calle Larios and ending at La Malagueta Beach.
Itinerary: Larios, Marqués de Larios roundabout, Plaza de la Marina, Manuel Agustín Heredia avenue, door of the columns of the Port of Málaga, Palmeral de las Sorpresas, Vélez-Málaga, Melilla City Promenade.