Christmas 2017 is already around the corner and there is less than a month for such an important date, but it's true that the spirit of Christmas already seems to be present in the streets of Málaga and its citizens. Every year, Christmas in Malaga starts with the Christmas lighting in Larios street and it coincides with the "Black Friday". But the purchases just begin with the Black Friday, it is very common among locals to go to the different Christmas markets around the city to shop to decorate the house, to take a walk with family or friends or to acquire those special gifts for the most beloved ones. That is why today we tell you what are the 4 most important Christmas markets in Malaga that you can not miss. Let's start!
1. Christmas market at "Paseo del Parque"
As it has been a regular at this time of the year, the Paseo del Parque is adorned with 92 little stalls that every year thousands of people from Málaga visit with the aim of making their most typical Christmas purchases, such as: figures of the nativity scene, Christmas decoration, firecrackers for New Year's Eve, etc. It is undoubtedly a must if you go to the center of Málaga at this time.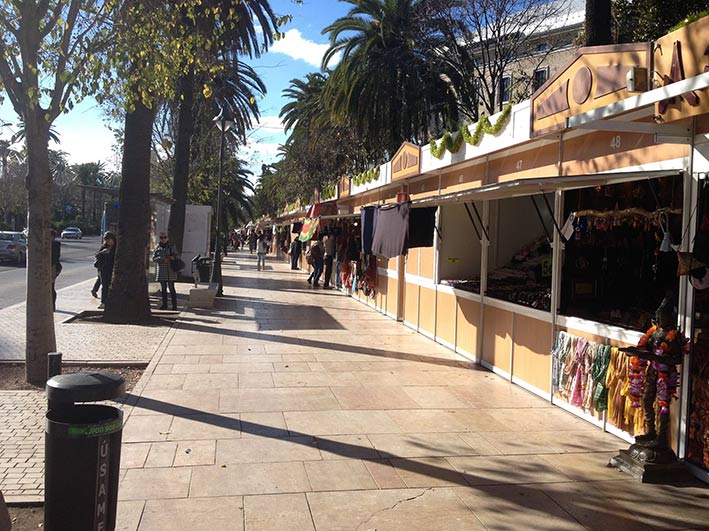 2. Christmas market at "Muelle Uno"
Located in the tourist area of the Port of Malaga, the Muelle Uno Christmas market begins this friday and will end the 7th of January, with a visiting time from 10:00 a.m. to 10:00 p.m. In addition, the Christmas market this year brings for the 'little ones' of the house 'La Casita de Navidad', where Santa Claus will be waiting to receive the Christmas cards from 12:00 to 14:30 and from 17: 00 to 20:00. There will also be a multitude of workshops such as Megaconstructions (December 2), children's workshop with Mr. Copito (December 9), Slow Macrame workshop (December 16) and even cooking workshops.
3. Christmas market at "La Concepción"
The Christmas Market in Málaga celebrated in the Conception Botanical Garden in 2016 was a success, and that is why this year it had to be repeated with its second Christmas market, where exhibitors from Málaga and other cities will find a great Outdoor Christmas market with fashion stalls, accessories, illustration, painting, ceramics, diverse crafts and antiques. In addition, next to the nineteenth century palace-house you will be able to enjoy the children's plaza, with  activities for the youngest of the house and the restaurant area where food trucks will be located with a gastronomic offer for all tastes.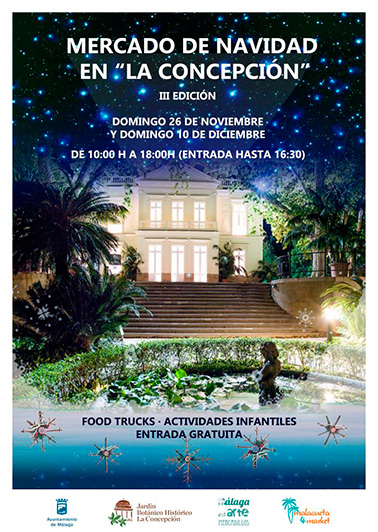 4. Plaza Merced Market
the 17th of December will be held in the 'Plaza de La Merced' the special Christmas market Plaza-merced  (usually held on the fourth Sunday of each month) from 11:00 to 19:00. In this market there are places for designers, creators, local food and handmade with charm since 2013. It should be noted that this market was chosen by the magazine AD as one of the 10 best street markets in Spain, so don't miss what they will have prepared for you in this special and Christmas edition.
Therefore, you have no excuse to say that you have not had time to plan your Christmas purchases. We hope you enjoy these magnificent Christmas markets in Málaga that you can't miss. And don't forget that you can contact us if you are interested of doing a free tour in Málaga.